Information
The general concept of the device
To determine the color characteristics of optical radiation, there is used the spectrophotometry method. The device represents a polychromator on a diffraction grating with registration of a decomposed radiation by a photodiode line. Initially there is determined a spectral content of the source of optical radiation. Then there is made a calculation of the color coordinates of the X,Y,Z sources within the visible spectrum. The color coordinates were calculated following the formula:
Then there is made a transition from CIE 1931 x,y color coordinates to a more uniform CIE 1960 u, v system following the formulas:
In the next phase, based on an array of ABB chromaticity coordinates and a corresponding array of temperatures, upon a minimum distance, there is determined a temperature of the source under study Tj, corresponding to a certain chromaticity point (uj, vj), (fig. 1).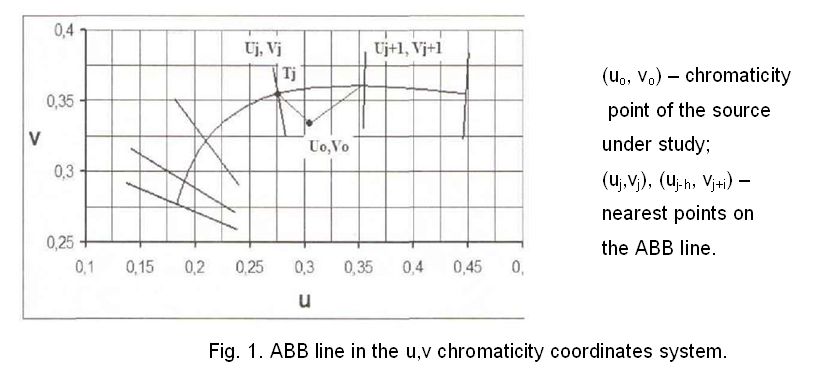 The radiated emission of the source under study, going through a device for forming a spatial characteristic, comes lo a disperser. Photodetecting device (PD) of spectrocolorimeter based on polychromator is shown in fig. 2.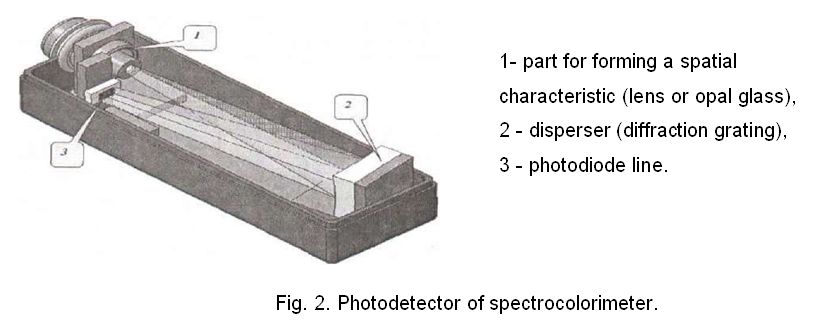 For measuring colorimetric characteristics of displays there are used optical elements, carrying the image into the input slit.
The device is designed on the basis of a one-chip microcontroller (MCU) using digital processing methods and displaying an information.
When measuring the brightness of the self-luminous objects (display screens, light boards) with not very strict requirements to the sizes of the luminous surface (diameter not more 10 mm) formation of a spatial sensibility of luminance meters is possible without use of optic. A formation device can be done as a simple tube, which geometrical sizes are determined according to the solving problems. Use of laser targets, successfully applied in recent times in many devices is also possible lor luminance meters without violation of correctness of luminance measurements for extended sources of optical radiation. Non focusing lenses are well-suited for distance determination of luminance for extended sources of optical radiation. A substantial simplification of the luminance meter structure does not influence its metrological characteristics.
One can use PC as a signal processing unit, significantly expanding the functionality of the device, especially, graphical display of measured and calculated parameters, as well as their deviation from the set (standard) values. Own software significantly accelerates the elaboration.
The knowledge of a spectral content of the investigated source of optical radiation provides tor solving practically all colorimetric problems for a researcher.